Looking for Home Care in Walnut Creek or Surrounding Areas?
Contact us at 925-203-3039 for a FREE In-Home Consultation
Golden Heart connects our clients to loved ones to address social isolation
The effects of isolation are felt by millions of people and those ages 65 and older are at increased risk for feelings of loneliness, especially at this time when visitors are restricted even in the home. With increasing "stay at home orders" that are happening all over the country, loneliness, helplessness, and boredom are real problems seniors will face more than ever.
While many people are using phones and computers to connect with friends and family virtually, many seniors do not have the technology or the know-how to connect with people virtually.
Golden Connections, a program to address social isolation
At Golden Heart Senior Care, we address social isolation with our Golden Connections program.  We train our caregivers to help our clients connect with their friends and family.  Our Golden Connections program offers:
Encouraging and facilitating regular virtual connections with friends and family
Identifying and addressing issues of loneliness, helplessness and boredom caused by social distancing, isolation and fear
Identifying and encouraging participation in spiritual and recreational activities virtually and at home
Engaging clients in activities around the house including grooming & hygiene, cooking, and household planning
Golden Heart Virtual Caregiving, a program to enhance care services
Personal Touch Plus – For most of our clients, nothing can replace the personal touch of a visit from your favorite caregiver who comes to assist you with your personal needs and household chores. However, to optimize your safety for those times when you are home alone, Golden Heart's software system offers:
Automated Medication Reminders – Recurring texts, emails and automated voice phone call reminders scheduled for specific times and days.
Virtual Shift Scheduling and Tracking – Our SMARTcare system is set up to schedule virtual visits for wellness checks, errands, and virtual support for activities of daily living.
Virtual Caregiver Technology – In addition, Golden Heart partners with specialists in electronic devices that can help us monitor your safety, well-being, and vitals 24/7 – even when a personal visit is not possible:
Fall Alerts
GPS tracking
Blood Pressure
Pulse Oximetry
Glucometer
Spirometer
Infrared Thermometer
Weight Scale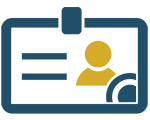 Work at Golden Heart
Contact us if you have a passion for caring for others!